Location:

Thomasville, NC

Category:

Faculty – Engineering – Electrical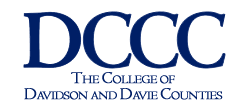 Davidson County Community College (DCCC) is an award-winning institution known for a commitment to excellence and student success. The DCCC community is dedicated to providing a high-quality education designed to prepare students to live and work in an increasingly interconnected world. To this end, DCCC celebrates the value of a diverse faculty and staff and encourages applicants from diverse backgrounds to apply. DCCC faculty and staff are passionate about equity and our responsibility to work with each unique student to support them in successfully attaining their goals. DCCC's benefits and other resources make it possible to excel both professionally and personally. We are a dynamic community that supports and celebrates the success of all of its members. The future is here!
RESPONSIBILITIES:
A full-time faculty position at Davidson County Community College is a nine-month position, with the faculty member's primary efforts focused on teaching and learning, academic excellence and student success. The successful candidate will demonstrate openness to new ideas, a flexible mindset that allows changes necessary to meet student needs, and a positive attitude focused on moving the program forward. Other critical qualities for success include a high degree of professionalism with colleagues and students, including exceptional communication skills. In addition, a faculty member is responsible for engaging in professional development and promoting the College mission, vision, and values.
QUALIFICATIONS:
Qualifications Required:
Bachelor's Degree from a regionally accredited institution in Electrical Engineering, Electronics Technology, Applied Physics, or closely related field
Significant industry experience/training with PLC's and robotics
Strong computer skills and commitment to the use of technology in instruction
Strong oral and written communication skills
Ability to work effectively and collegially with others in a team environment
Familiarity with and appreciation for the mission of a comprehensive community college
Effectiveness in the following College organizational competencies:

Translating College purpose, values, and vision into organizational action
Collaborating and facilitating
Creating and innovating
Anticipating and responding to change
Providing vision and leadership
Assessment of student learning
Engagement and assessment of successful student retention models
Qualifications Preferred:
Master's Degree from a regionally accredited institution in Electrical Engineering, Electronics Technology, Applied Physics, or closely related field
Work experience in an advanced manufacturing setting
Teaching experience in a community college or related work experience
Experience with online instruction
ADA SUMMARY:
ADA requirements for this position include critical thinking skills with the ability to process information and exercise good judgment in the collection, evaluation, and analysis of data, and student assessment, curriculum development, and program review. Other requirements include ease of mobility in supervising students in classroom/lab settings, carrying supplies and other instructional materials, ability to move, climb, or crawl under equipment, use of keyboard, effective use of all forms of communication (oral, written, visual, auditory), and the ability to perform general teaching and office duties and travel to other campus locations.

Contact:

Human Resource Services
Davidson County Community College

Davidson County Community College is committed to equality of opportunity and does not discriminate on the basis of race, color, religion, gender, age, disability, or national origin consistent with provisions of applicable state and federal law.
© Copyright 2020 Internet Employment Linkage, Inc.