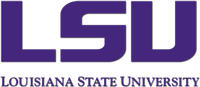 Louisiana State University (LSU) in Baton Rouge invites applications and nominations for two tenure-track faculty positions in the Department of Mechanical and Industrial Engineering (MIE) to complement its strategic research application areas of Manufacturing/Materials and Energy in Mechanical Engineering.
LSU is the Flagship University of the State of Louisiana and its main campus is in the vibrant city of Baton Rouge, offering many cultural and recreational opportunities and high-quality housing. The MIE Department is the largest one in the College of Engineering and provides leadership to several research centers, including (1) The Louisiana Materials Design Alliance (LAMDA), a $20M, 5-yr cooperative agreement funded by the National Science Foundation (NSF) in 2020 focusing on materials (metals, polymers and composites) and manufacturing process design for additive manufacturing using a model-make-measure paradigm enabled by machine-learning technologies and data science, (2) The Cooperative for Innovation in Structural Integrity Assurance (CISIA) focusing on industry-university collaborative R&D, and (3) The National Center for Advanced Manufacturing (NCAM), a unique partnership between the State of Louisiana and NASA emphasizing large-scale manufacturing. Associated research efforts leverage the Center for Computation and Technology (CCT) with formidable high-performance computing capability and relevant scientific research ecosystem, and the Center for Advanced Microstructures and Devices (CAMD), the only University-run synchrotron facility in the USA.
Appointments will be made at the Assistant Professor level in Mechanical Engineering, though applicants with exceptional qualifications may be considered at other ranks. Research expectations include the ability to work independently, and to pursue interdisciplinary collaborations, both within and outside LSU, sustain an innovative, nationally recognized, and externally funded research program, and growing relationships with industry. Teaching expectations include a commitment to effective instruction and mentoring at the undergraduate and graduate levels, and supervision of student research.
Job Responsibilities:
50% Teaching at the undergraduate and graduate level and associated service in support of the educational mission and reputation of the unit.
50% Research in mechanical engineering areas, especially in the general application areas of Manufacturing/Materials or Energy, resulting in scholarship published in archival journals and research grant/contract solicitation to support it, along with associated service in support of the research mission and reputation of the unit.
Minimum Qualifications:
Bachelor's degree in Mechanical or Aerospace, or Nuclear Engineering, or related discipline, with a Ph.D. in Engineering or related scientific field (ABD candidates will be considered so long as degree requirements are met prior to the hire date); at least four years of experience, including graduate study; experience in any area of mechanical engineering, especially as related to the general application areas of Manufacturing/Materials or Energy.
Preferred Qualifications:
Background in any area of mechanical engineering especially as related to the general application areas of Manufacturing/Materials or Energy including but not limited to: modern computational mechanics including multi-scale modeling & simulation; additive manufacturing/materials innovation including structural integrity and/or robotics/automation aspects; fundamental and applied research in energy and related energy production environments. Within these areas, experience with modern approaches involving machine learning and data science is highly desired.
Special Instructions:
Please attach the following as one single PDF to your online application: cover letter, curriculum vitae, teaching philosophy statement, research plan statement and three professional references including name, title, phone number and e-mail address.
A copy of your transcript(s) may be attached to your application (if available). However, original transcripts are required prior to hire.
An offer of employment is contingent on a satisfactory pre-employment background check.
The review of applications will begin on December 15, 2020 and will continue until the positions are filled. The expected start date for these positions is August 2021.
Salary will be competitive based on qualifications. Campus interviews will be conducted in Baton Rouge, LA prior to an offer being extended
Benefits – LSU offers outstanding benefits to eligible employees and their dependents including health, life, dental, and vision insurance; flexible spending accounts; retirement options; various leave options; paid holidays; wellness benefits; tuition exemption for qualified positions; training and development opportunities; employee discounts; and more!
Questions or concerns can be directed to the LSU Human Resources Management Office at 225-578-8200 or emailed HR@lsu.edu
Diversity is fundamental to LSU's mission and the University is committed to creating and maintaining a living and learning environment that embraces individual difference. Cultural inclusion is of highest priority. LSU recognizes that achieving national prominence depends on the human spirit, participation, and dedicated work of the entire University community. The LSU Strategic Plan 2025 will be realized by bringing together diverse ideas, perspectives, skills, and talents of the nation's pre-eminent scholars, brightest students, and leading higher education professionals. Through it's Commitment to Community; LSU strives to create an inclusive, respectful, intellectually challenging climate that embraces individual difference in race, ethnicity, national origin, gender, sexual orientation, gender identity/expression, age, spirituality, socio-economic status, disability, family status, experiences, opinions, and ideas. LSU proactively cultivates and sustains a campus environment that values open dialogue, cooperation, shared responsibility, mutual respect, and cultural competence– the driving forces that enrich and enhance cutting edge research, first-rate teaching, and engaging community outreach activities.
© Copyright 2020 Internet Employment Linkage, Inc.